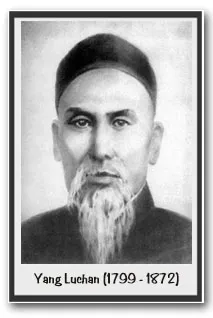 First Generation
Creator and Founder of Yang Family Tai Chi
Yang, Luchan was also known as Yang, Fu-k'ui or Yang, Fukui. Born in Guangping, Yang, Luchan was referred to the Chen Village to seek out his own teacher, the 14th generation of the Chen Family, Ch'en, Chang-hsing, to learn Chen village boxing.
After mastering the martial art, Yang, Luchan was given permission by his teacher to go to Beijing and teach his own students, including Wu, Yu-hsiang and his brothers, who were officials in the Imperial Qing dynasty bureaucracy.
In 1850, Yang was hired by the Imperial family to teach Taijiquan to them and several of their elite Manchu Imperial Guards Brigade units in Beijing's Forbidden City.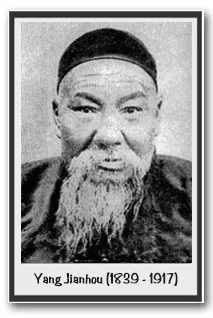 Second Generation
Son of Yang, Luchan, the Founder
Yang, Jianhou, also known as Jung Pu, was Yang, Luchan's third son. Jianhou had a highly developed martial art skill and was agile in his Tai Chi form. His Tai Chi was a perfect blend of hard and soft. He was especially talented at issuing internal power. He practiced and taught "The Old 6 Roads" Middle Frame Form, also known as "the secret transmissions of Yang, Jianhou".
Having a warm-hearted spirit, whenever Yang, Jianhou trained and/or competed with others, he never looked down on anyone. He too, like his father, was never defeated. He was loved and respected by his many students because he was a gentle and patient teacher.
Yang, Jianhou taught his sons, Yang, Chengfu and Yang, Shao Hou, as well as his disciple Wang, Yongquan.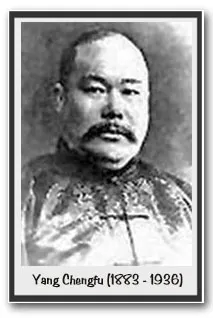 Third Generation
Son of Yang, Jianhou and Grandson of Yang, Luchan
Yang, Chengfu was born into the famous Yang Taijiquan family, the son of Yang, Jianhou and grandson of Yang, Luchan. With his older brother, Yang, Shao Hou, and colleagues, Wu, Jianquan and Sun, Lutang, he was among the first teachers to offer T'ai chi ch'uan instruction to the general public at the Beijing Physical Culture Research Institute from 1914 to 1928.
Yang, Chenfu was known for being a kind and patient teacher and was liked by many. He is also known for having simplified and smoothed-out the somewhat more vigorous training routine that he learned from his family, as well as emphasizing a "large frame" or "Da Jia" with expansive movements showing large circles and "Peng" or expansive energy.
This is the public form, more commonly known as the "Long Form" or "108 Form" that is currently taught world-wide.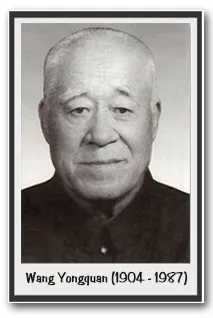 Fourth Generation
Disciple of both Yang, Jianhou and Yang, Chengfu
Great Grand Master Wang, Yongquan studied from Yang, Jianhou from the age of eight, along with his father Wang, Chonglu. Wang, Yongquan was a formal disciple of the Yang family and learned from Yang, Jianhou as well as his two sons, Yang, Chengfu and Yang, Shaohou. He was known for his soft Tai Chi skills as well as for being a virtuous man, never speaking down to others personally or regarding their martial arts.
When he would "fajin" (emit power), if the person was going to fall, he would catch their wrist to brace them and avoid injury.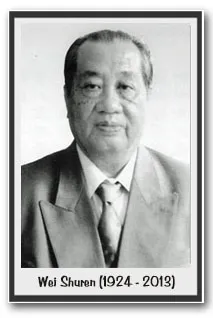 Fifth Generation
Disciple of Wang, Yongquan
Grand Master Wei, Shuren was the last disciple of Yang Tai Chi Master Wang, Yongquan and received the complete transmission of Yang, Jianhou passed down from Yang, Luchan.
Wei, Shuren taught the Yang Family style of Tai Chi Chuan that was passed to Wang Yongquan from the 2nd generation Yang family master Yang, Jianhou. Wei, Shuren had many disciples, two of which were Wei, Xilan and Dr. John Fung.
One of the qualities his disciples respected him for, apart from his knowledge and skill level, was his sincerity and his willingness to teach everything he knew, holding nothing back. He will always be remembered as an honorable teacher.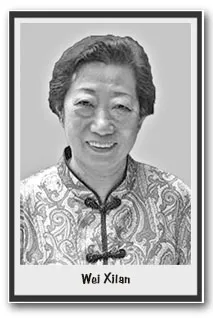 Sixth Generation
Daughter of Wei, Shuren
Master Wei, Xilan (pronounced Shee-lawn) is Grandmaster Wei, Shuren's daughter and disciple. She received the complete transmission passed down all the way from Yang, Luchan from her father, Grandmaster Wei, Shuren.
Currently she lives in Beijing, China, where in May of 2015 Sifu Ray Abeyta became her official disciple and received the direct transmission passed down from Yang, Luchan. Her character is humble, patient and compassionate.
Master Wei, Xilan possesses great knowledge and incredible internal power and skill, sharing freely with others as her father did before her. Master Wei, Xilan is greatly loved and respected by her disciples.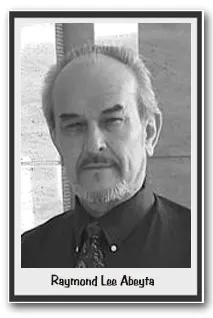 Seventh Generation
Disciple of Wei, Xilan
After nearly 30 years of Tai Chi training with many different teachers and teaching and competing across the country, Ray had the good fortune of meeting Dr. John Fung through his friendship on Face Book, this was around the end of 2013. Dr. Fung had been a student of the late GM Wei, Shuren since 1996 and a disciple since 1997 which Ray was very excited about because of GM Wei's high level reputation. As time went on discussions led to Ray's gently coercing him to come teach at his small Tai Chi School in El Paso, TX. all the way from Sydney, Australia. After this visit, Ray found him to be knowledgeable, humble and very skilled, he knew he had found a new Sifu with a generous and open heart who truly wanted to share the teachings of his late GM. Ray was overjoyed.
After his visit and him getting to know Sifu Ray and his number 1 student Wolf Carter, Dr. Fung asked them both to become Disciples of Imperial Yang Style Tai Chi. Both were stunned and did not feel worthy and after much thought and discussion, they not only humbly accepted but also asked Dr. Fung to consider Sifu Michael Paler who had traveled from Colorado Springs to meet John during the workshop in April of 2014. John said he would consider it and after sometime he agreed, the skilled, young, hard working Sifu originally from Buffalo, New York who ran a successful school in Colorado would also be included. They were both very pleased because he deserved it easily as much as they did if not more.
So now after traveling to Beijing in May of 2015 and becoming disciples of Lao Si Wei, Xilan, the daughter of GM Wei, ShuRen and 6th Generation Disciple, they are diligently working on the "Old Six Roads" form that they learned from Lao Si Wei, XiLan as well as the powerful energetics that have been lost in many of Yang Style teachings today. They also have the good fortune of learning from Dr. John Fung, the Late GM Wei's Shen,Yi, Qi -QiGong,(energy exercise), which WSR only taught to his students in Beijing and was not even taught publicly in China, so this powerful qigong was a very special gift from Dr. John Fung. This unique version of Yang family tai chi is the reason GM Wei asked Dr. Fung to call it something different from the many other Yang styles that exist today so to differentiate it, hence the name "Imperial Yang Family Tai Chi". Now they are doing their very best to do honor to the art and to the late GM Wei's wishes to spread it like "grass" across the USA.
In October 2016, Ray and Michael met in Santa Fe and played the complete form together for the first time after their China visit. This was not planned and just for fun: